Securing the Cloud Ecosystem
March 13-14, 2024
Protect your cloud infrastructure, assets and data with effective technologies, policies and other services to ensure threats stay at bay.
The cloud ecosystem is larger and more complex and interdependent than ever. As organizations increasingly migrate their data and assets to the cloud, attackers are growing more sophisticated in their attempts to break through its growing attack surface. Cloud security strategies cover necessary services like user and device authentication, resource access control and data privacy that ensure that the cloud system remains impenetrable to cyberattacks.
Attend this Summit to hear leading experts discuss effective strategies to secure identity and access management as well as the leading tools and approaches that best secure the extensive cloud ecosystem from a bevy of insidious attacks.
You will soon be able to register for free and gain access to live webinars, fireside chats and keynote presentations from the world's leading innovators, vendors and evangelists.
Securing the Cloud Ecosystem
March 13-14, 2024
Tracks
Cloud Migration Management
March 13, 2024
Ensure all your organization's applications and data are successfully moved to the cloud computing environment without losses or mishaps.
Content to follow shortly
Cloud and Data Security Tools and Tips
March 14, 2024
Explore the top software, approaches and other controls that reliably secure your cloud from the most current threats.
Content to follow shortly
Audience
CIOs, CTOs, MDs, Heads, EVPs, SVPs, VPs, Directors, Managers, Practitioners, and Consultants within:
Cloud Management
IT Infrastructure / IT Systems Management
Application Management
IT Audit / Asset Management
DataOps / Cloud Data Security
DevOps
Engineering: Non-Data / Data Center / IT
Help Desk / Service Desk / ITSM
Cloud Operations
IT Project Management / PMO
Identity & Access Management
Network Systems
Previous Speaking and Attending Companies
AAA, Abbott Laboratories, Accenture, Aerospike, Adobe, Alexim Trading Corp, Alkhabeer Capital, Allianz Life, American Red Cross, AnMed, Aon Corporation, Apple Inc, ATB Financial, BAE Systems, Ball Corporation, Bank of America, Bank of the West, Barclays, BBVA, Best Buy, Bestel, Bitconnect, BMO, BNP Paribas, BNY Mellon, Boeing, Bosch, Booz Allen Hamilton, Bristol-Myers Squibb Company, British Telecom Group, Capgemini, Capital One, CapTech Ventures, CB Richard Ellis Inc, CBT Company, CFAO Group, Challenger Stone, Chevron, Chicago Board Options Exchange Incorporated, Children's Medical Center
CIBC, CIGNA, Claranet, Cobra Trading, Cognigo, ConAgra Foods Inc, CoreSite, Cogent International, Cox Communications, Credit Suisse, DaVita Inc, DBS Bank, Deloitte, Deutsche Bank, Dollar General Corp, Dow Jones, Duke Energy, Energy Transfer, Engen Petroleum Ltd, Ericsson, Evolutio, EY, FedEx, Finastra, Fiserv, Federal Reserve, Fidelity Investments, Ford Motor, General Dynamics, General Motors, Hewlett Packard Enterprise, Hilton Hotels, Hitachi, Huawei Technologies, Inertial Labs, Ingenico, Infiltron Software Suite, InterContinental Hotels Group US, J.P. Morgan & Co., Kaiser Permanente
Kiewit, KLA Corporation, Kohler Co., Leeds Building Society, Lenovo, LG Electronics, LinkedIn, Lockheed Martin, ManTech International Corporation, Manulife, Marsh Inc, MasterCard, McAfee, Morgan Stanley, MUFG, Munich Re, National Institutes of Health, Netflix, Nokia, Nomura, Northrop Grumman, Optum, Oracle, Pacira Pharmaceuticals, Palomar Health, Panasonic, Paystack, PepsiCo, PETROBEL, Pfizer, Plug and Play, PwC, QBE Insurance Group, Raytheon Technologies, Refinitiv, Repsol, Royal Bank of Canada, Samsung Electronics, Saudi Telecom, Schellman, Schneider Electric, Scotiabank
SecurityHQ, Select Sires, Siemens Healthcare GmbH, Sierra Nevada Corporation, SK Telecom, Standard Group Limited, Staples, Sun Pharmaceutical Industries, Sygnia Asset Management, Symantec, TD Bank, Teladoc Health, Telenet, TIAA-CREF, Tigermar Global, Trustwave, Union Pacific Railroad, United Parcel Service Inc., U.S. Bancorp, U.S. Coast Guard, Universal Computer Center, US Air Force, US DOJ, US Government, Verisure Innovation AB, Verizon, Vesta Corp, Visa, Vitalant, Volkswagen AG, Volvo, Walmart, Walt Disney, Wells Fargo, Westlake Chemical Corporation, YETI
In Partnership With
TechTarget Editorial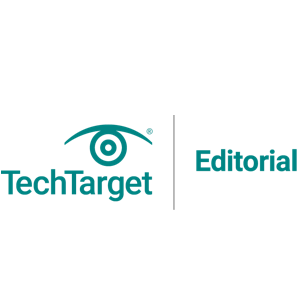 Get more out of BrightTALK Summits