Building Resilience Through Governance, Risk and Compliance Strategies
August 15-16, 2023
Achieve excellence in GRC and expand your knowledge
Governance, Risk and Compliance (GRC) programs empower organizations of all industries and sizes to better manage crucial activities within the company – boosting the effectiveness of people, business processes, technology, and other vital business elements. By attending this virtual summit, motivated professionals like you will gain valuable insights from experts and industry leaders regarding risk mitigation, compliance requirements, best practices and pitfalls of GRC programs, and more.
View on-demand webinars and fireside chats from leading GRC innovators, vendors and evangelists.
Building Resilience Through Governance, Risk and Compliance Strategies
August 15-16, 2023
---
August 15 | Compliance and Risk Management
Receive expert guidance on risk management programs, regulatory compliance processes and strategies, and ways to support resiliency and enterprise agility.
4:00PM BST | 11:00AM ET | 11:00PM SGT
Risk management for AI systems
Learn more
1:00PM ET | 6:00PM BST | 1:00AM SGT +1
Compliance and risk management on Wall Street | Learn more
5:00PM ET | 10:00PM BST | 5:00AM SGT +1
Compromised data risk management: It's everyone's business | Learn more
---
August 16 | Data Protection
Learn about data protection strategies and trends, data protection and privacy laws, and how to build a business continuity and disaster recovery (BCDR) plan.
More content to follow shortly!
1:00PM AEST | 4:00AM BST | 11:00PM ET – 1
Hitachi Vantara: As Your Data Grows, So Do Your Protection Worries | Learn more
1:00PM BST | 8:00AM EDT | 8:00PM SGT
Disaster recovery plans: What keeps you awake at night | Learn more
1:00PM BST | 8:00AM EDT | 8:00PM SGT
Data Analytics meets privacy
| Learn more
Presenters
Platinum Sponsor
Hitachi Vantara
Summit Sponsor
Collibra
Audience
DPOs, CISOs, CIOs, CTOs, MDs, Heads, EVPs, SVPs, VPs, Directors, Managers, Advisors, Partners and Consultants within:
IT / IT Operations / IT Infrastructure
Compliance & Risk Management
Software Engineering / Data Engineering
Solutions Architecture
Environmental, Social and Governance (ESG)
Data Protection / Strategy & Architecture
Cloud Architecture / Multi-Cloud
AI Automation / Machine Learning
Governance, Risk & Compliance (GRC)
Cybersecurity / Cyber Intelligence
Network Development
Supplier & Partner Operations
Previous Speaking and Attending Companies
Accenture, Aerospike, Adobe, Alkhabeer Capital, American Red Cross, Aon Corporation, Apple Inc, BAE Systems, Ball Corporation, Bank of America, BBVA, Bitconnect, Boeing, Bosch, Bestel, BMO, BNP Paribas, Booz Allen Hamilton, Capgemini, Capital One, CapTech Ventures, CBT Company, CFAO Group, Challenger Stone, Chevron, CIGNA, Claranet, Cobra Trading, Cognigo, CoreSite, Cogent International
Cox Communications, Credit Suisse, DBS Bank, Deloitte, Deutsche Bank, Dow Jones, Duke Energy, Energy Transfer, Engen Petroleum Ltd, Ericsson, Evolutio, EY, FedEx, Finastra, Fiserv, Federal Reserve, Ford Motor, General Dynamics, General Motors, Hewlett Packard Enterprise, Parkway Corporation, Hilton Hotels, Hitachi, Huawei Technologies, Inertial Labs, Ingenico, Infiltron Software Suite, Kaiser Permanente
Kiewit, Leeds Building Society, Lenovo, LG Electronics, LinkedIn, Lockheed Martin, Marsh Inc, McAfee, Morgan Stanley, MUFG, Netflix, Nokia, Nomura, Northrop Grumman, Optum, Oracle, Pacira Pharmaceuticals, Palomar Health, Panasonic, Paystack, PepsiCo, PETROBEL, Pfizer, Plug and Play, PwC, QBE Insurance Group, Raytheon Technologies, Refinitiv, Repsol, Samsung Electronics, Saudi Telecom
Schellman, Schneider Electric, Scotiabank, SecurityHQ, Select Sires, Siemens, SK Telecom, Symantec, Teladoc Health, Telenet, Tigermar Global, Trustwave, Union Pacific Railroad, U.S. Bancorp, U.S. Coast Guard, Universal Computer Center, US Air Force, US DOJ, US Government, Verisure Innovation AB, Verizon, Vesta Corp, Visa, Volkswagen AG, Volvo, Walt Disney, Wells Fargo, Westlake Chemical Corporation, YETI
In Partnership With
TechTarget Editorial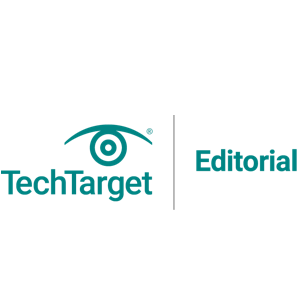 Get more out of BrightTALK Summits