Optimal Data Analytics
July 18-19, 2023
Unleash the power of augmented analytics to optimize core business processes, source new revenue streams, improve customer satisfaction and drive long-term success.
With more data at your disposal than ever, data management and analytics have never been more critical to defining long-term success. Join this summit to explore how AI and ML are shaping the future of data analytics, and discover strategies to implement deep learning, neural networks, RPA, NLP and more while harnessing dashboards and visualizations to give teams access to valuable, easy-to-digest, real-time data insights.
Register for free to reserve your spot and gain access to live webinars and fireside chats from the world's leading innovators, vendors and evangelists.
Tracks
Benefits of AI and ML
July 18, 2023
Combine AI and ML to develop best-in-class decision-making processes, simplify complex business problems, and optimize CX.
Agenda to be announced!
Accessible Dashboards and Visualizations
July 19, 2023
Democratize your data, empowering teams across departments with the tools they need to develop future-proof analytics processes.
Agenda to be announced!
Upcoming Webinars
Sponsors
Faction
Redis
Presenters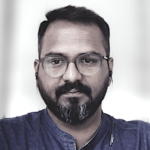 Get more out of BrightTALK Summits